Vietnamese Thieu lychee exported to 20 countries
30/ 06/ 2021
Vietnamese Thieu lychees have currently been exported to 18 - 20 countries around the world. The average annual export volume of fresh lychee is about 100,000 tons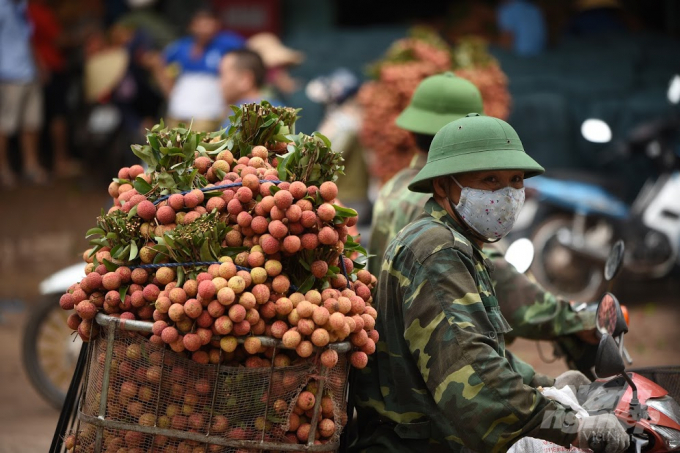 Fully create conditions to export lychee to China
Currently, lychee products in the northern provinces, mainly Bac Giang and Hai Duong, are entering the main harvest season. In 2021, the lychee is in good season, but the very complicated Covid-19 epidemic situation creates concerns and makes it difficult to consume lychee.
According to Ms. Nguyen Thi Thu Huong, Deputy Director of the Plant Protection Department (MARD), so far Vietnam's fresh lychee has been exported to 18 - 20 countries around the world. Vietnam's annual export volume of fresh lychee is about 100,000 tons, accounting for about one third of the total national lychee production volume. And China is a major partner of Vietnam in the export of lychee.
The Plant Protection Department has coordinated with localities and exporter countries to grant 363 area codes for fresh lychees, more than 200 codes for China particularly. In addition, packing facilities are also thoroughly inspected to ensure goods are controlled throughout the entire packing process.
Conquer the Japanese market
This year, the Plant Protection Department has successfully negotiated with Japan to expand two more lychee processing facilities, thereby increasing Vietnam's capacity to process fresh lychees before exporting.
According to Deputy Director Nguyen Thi Thu Huong, after much research with the support of businesses, the Plant Protection Department has made improvements in fresh lychee process techniques: "Last year, we had to process using cartons which were very difficult, labor intensive and time consuming, and the quality of lychee would also be affected because of the impact from excessive processing. This year, Japan has approved Vietnam to process lychees using baskets. Basket processing has improved the efficiency of the transportation phase, the processing efficiency, and reduced fruit spoilage".
Bac Giang can export the first batch of lychees to Japan on May 26th. At present, the Plant Protection Department has arranged at each facility two plant inspectors with full machinery and equipment to be able to supervise the processing as well as inspect the plants on site
Source: Nongnghiep.vn