Hai Duong promotes consumption of Thanh Ha lychee, specialty agricultural products
27/ 05/ 2021
The northern province of Hai Duong on May 18 hosted a teleconference with the relevant ministries and agencies to seek ways to promote the consumption of the Thanh Ha lychee and Hai Duong's other typical agricultural products.
The event was connected online to 36 main venues both in Vietnam and in 12 other nations, with nearly 300 foreign importers trading online with the Vietnamese enterprises involved.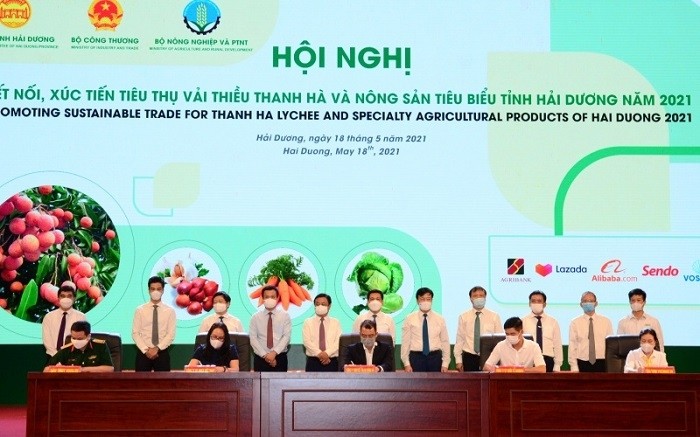 As an important trade promotion activity and part of a series of events that are helping connect suppliers and consumers of local farm produce in 2021, the conference offers an opportunity for businesses and traders to promote their product's quality and their brands as well as stimulate domestic consumption and exports, helping local enterprises find partners, promote trade and expand markets, while also introducing the potential, advantages, incentives and preferential policies of Hai Duong in the field of agriculture.
Speaking at the conference, Minister of Agriculture and Rural Development Le Minh Hoan highly lauded Hai Duong for overcoming its difficulties during the previous COVID-19 outbreak to promote its diverse and rich agriculture, with the Thanh Ha lychee grown in Thanh Ha district in particular and Hai Duong agricultural products in general having made strong steps in both domestic and international markets.
The minister suggested Hai Duong boost agricultural development towards intensive growth, with multi-value solutions integrated into building agricultural brands, forming product value chains for its agricultural products.
The province should also pay attention to processing to avoid seasonal risks and diversify its products to suit consumer tastes, while taking advantages of its fruit trees, developing plans for agro-tourism to enhance value for the local agricultural sector.
Foreign partners affirmed that amid the Covid-19 epidemic negatively affecting trading activities, parties have actively cooperated and removed difficulties to create favourable conditions for the import and export of agricultural products, thus helping trade growth rates continue to increase.
Nguyen Khac Tien, Chairman of the Board of Directors of the Ameii Vietnam Joint Stock Company, affirmed that Hai Duong agricultural products have great export potential. The company assesses that Hai Duong has many strong agricultural products and competitive advantages in terms of exports. In particular, Thanh Ha lychee, with its outstanding features in quality and design, cultivated according to international standards, is a key product, creating high value compared to other lychee growing countries.
Secretary of the Hai Duong Provincial Party Committee Pham Xuan Thang affirmed that in the context of the complicated developments of the COVID-19 epidemic, the consumption of domestic agricultural products and exports is a big challenge. Hai Duong should continue to effectively implement the restructuring of the agricultural sector in the direction of increasing added value and sustainable development, applying high technology, implementing digital transformation and applying standardised farming methods to produce concentrated, large-scale, productive, quality, economic agricultural products with organic characteristics.
Within the framework of the conference, delegates pressed the button to launch the Thanh Ha lychee and other Hai Duong agricultural products on e-commerce platforms. Representatives of four e-commerce platforms, including sendo.vn, voso.vn, postmart.vn and lazada.vn signed cooperation agreements with four units involved in the production and purchase of lychee and other agricultural products of Hai Duong.
First batch of lychee to Japan
Earlier on the same day, in Thanh Lanh village, Thanh Quang commune (Thanh Ha district), Hai Duong authorities held a ceremony to launch the harvest of Thanh Ha lychees for export to Japan, the US, Australia, Europe, and Singapore.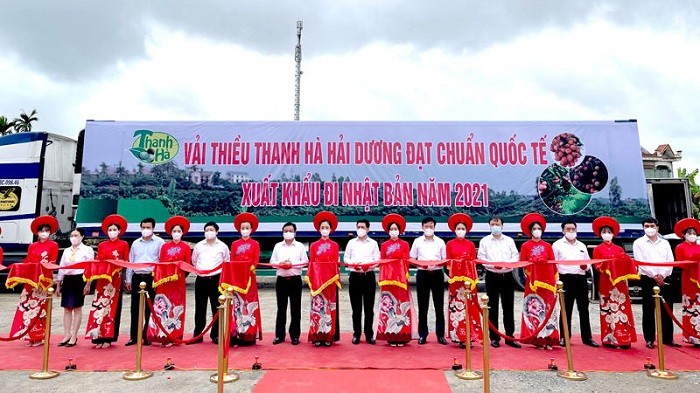 After the ribbon-cutting ceremony, the delegates visited a local litchi garden meeting VietGAP and GlobalGAP standards and experienced lychee harvesting activities. Secretary Thang introduced the leaders of ministries and branches to the Thanh Ha early-ripening lychees that bring a high economic value to local farmers. Their quality meets export standards and they are consumed in high-end markets.
After visiting the lychee garden in Thanh Lanh village, the delegates cut the ribbon sending the first batch of lychee in Lai Xa village, Thanh Thuy commune to foreign markets. Traders have prepared enough means of transport to export the first 100 tonnes of lychee to Japan, followed by exports to the US, Australia and the EU.
Hai Duong province currently has more than 9,000 ha of lychee, of which over 3,300 ha is in Thanh Ha district and more than 3,500 ha in Chi Linh district, with total output of about 55,000 tonnes.
The province currently has 45 litchi farming areas with 450 ha meeting GlobalGAP standards and 6,300 ha planted according to VietGAP standards.
So far, 1,000 ha have been certified with VietGAP and GlobalGAP, while 8,000 ha have been granted export planting area codes.