Prime Minister: Farmer must be center, rural is foundation and agriculture is impetus
20/ 05/ 2021
The suggestion was made by Prime Minister Pham Minh Chinh at a meeting with the Ministry of Agriculture and Rural Development (MARD) held at the Government Headquarters in Hanoi on May 19. The meeting discussed the implementation of the sector's key tasks in the near future.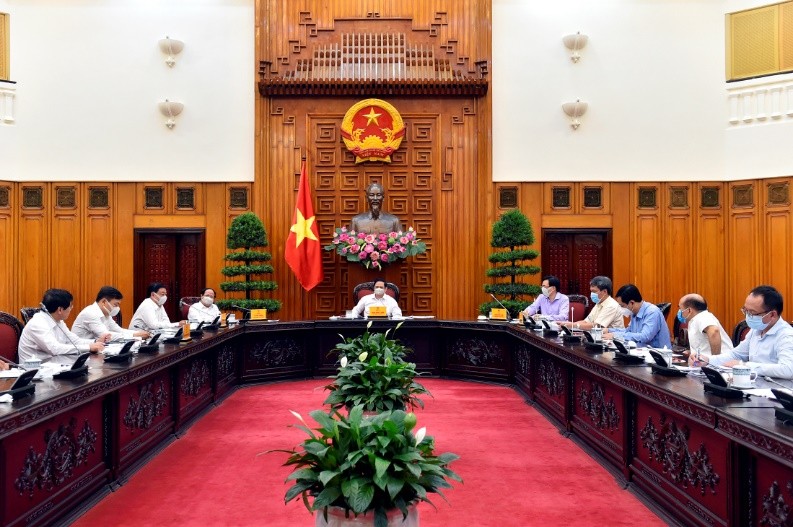 Speaking at the meeting, PM Chinh emphasised that the main pillars of the agricultural sector must be agriculture, rural areas and farmers that contribute to furthering political stability and promoting the development of industrialisation and modernisation.
Farmers must be the centre, while the countryside must be the foundation and agriculture the driving force for the sector's development, the PM stated, stressing that this is the most important thing and urging the sector to take internal resources as fundamental, strategic, long-term and decisive direction, while external resources are important in making breakthroughs.
He clarified that internal resources include human resources, historical and cultural traditions, land, water, and air resources, in which the human factor determines everything. External resources are management, science - technology and capital.
Promoting the spirit of self-reliance, innovation and flexibility, the PM also emphasised the need to promote resource mobilisation in the form of public-private cooperation on the principle of balancing benefits and sharing risks among the three subjects: people, the State and enterprises.
The PM pointed out a number of models that the MARD should study and apply, such as public leadership, private governance; public investment, private management; and private investment, and public use.
It is necessary to focus resources on strategic breakthroughs, effectively exploit the land, improve added value, effectively use agricultural land and organise the model of agricultural cooperatives suitable to the new situation, he added.
Regarding the key tasks for the sector, the PM said that it is necessary to develop strongly and rationally the cooperative system in association with restructuring the agriculture and rural development sector. He agreed that it is necessary to develop a Government resolution on this issue.
Approving the proposal from the MARD on promoting the national One Commune-One Product program (OCOP) programme during the 2021-2025 period, the government leader said that the programme contributes to promoting large-scale production.
He stressed the need to narrow the gap between the rich and poor in urban and rural areas, promote international integration, and focus on developing industry to serve agriculture.
In addition, it is also important to replicate good models and new ways in agricultural, rural and farmer development, attach importance to emulation and commendation work besides tightening discipline, and create favourable conditions for innovation.
The PM urged the MARD to attach importance to the construction of a clean and strong Party cell within the agricultural sector, while improving the leadership and capacity of its Party organisations and Party members.